http://www.schoolforstartups.com/designing-websites-on-the-ipad/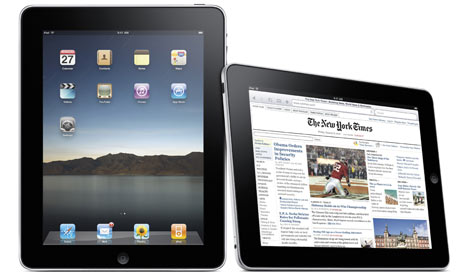 The best description I've heard about the iPad so far is that it is made more for content consumption than content creation.
As a web designer who creates websites, the iPad doesn't hold as much sway for me as a MacBook.  At this stage of iPad development, in my dream world with an unlimited budget, I would choose a MacBook Air or MacBook Pro over the iPad.
My prediction is that the next generation iPad will contain more utilities for designers, as designers are a core Apple consumer.  And maybe these features will exist in 3rd Party Applications making website design possible, natural, and a joy to complete on a tablet device.  But for now, one program that I often use during the website design process is Adobe Fireworks.  Many others use Photoshop, Illustrator, and Dreamweaver.  These are not available on the iPad.
Thoughts on Designing Websites on the iPad
One way around this would be to design the Website in WordPress.  The admin area of WordPress could be accessible through the Safari browser on the iPad.  One could then download the App "FTP on the Go" which is available for both the iPhone and the iPad in order to control files for the site.  Files can be directly altered within the program.  But with the iPad only allowing one program to be open at a time, one would need a pretty good understanding of html, css, & php to make changes to a website page without being able to view the changes immediately.
As far as image editing goes, there should be a wave of new apps arriving soon that allow for these types of capabilities.  Perhaps even some from Adobe.
At this point, I think website design is much easier on a MacBook, but I hold out hope for future generations of the iPad to contain more abilities for me to design on a tablet, either through native Apple components or 3rd party applications.
If anyone has further information on website design on the iPad, I'd love to hear your thoughts in the comment section below.
content consumption
,
content creation
,
iPad
,
ipad photo editing
,
Website Design
Author: Erik Rostad
Erik Rostad is the owner of EPR Creations, a website development company based out of Atlanta, GA. Erik's background is in International Business and he has traveled the world for music, business and for fun.